7v7 Scrimmage
A 7v7 scrimmage is a great way to end most of your training sessions. The 7 vs 7 allows players to focus on team tactics in realistic training situations and respond to problems presented in the full-sided game.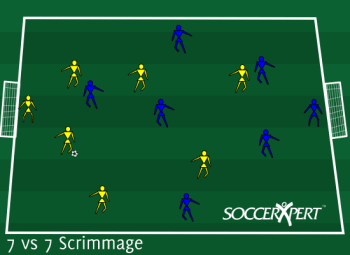 7 vs 7 scrimmage, 7v7 team training
It's always good to finishing a soccer training session with a 7 vs. 7 scrimmage to focus on team play.
Drill Setup
---
Create a field approximately 60 X 40 yards.
Two full-size goals on each end-line.
Split the teams evenly into 7 vs 7. Six field players per team and a goalkeeper in each goal.
For younger players with fewer field players, reduce the size of the field and number of players.
Drill Instructions
---
Play a small sided game with match conditions.
All game rules apply. Throw ins, corner kicks, goal kicks, etc.
Drill Variations
---
Add minor restrictions to focus on a specific topic.
Drill Coaching Points
---
Let the game be the teacher.
Correct team shape.
Speed of play.
Soccer Drill Skill Focus

---
Top Rated Soccer Drills
---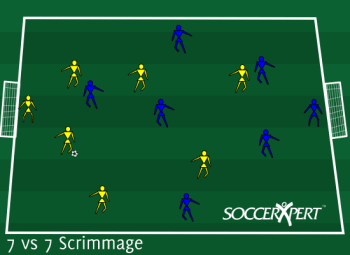 It's always good to finishing a soccer training session with a 7 vs. 7 scrimmage to focus on team play.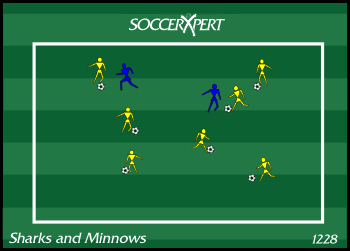 The Sharks and Minnows dribbling drill focuses on using the body to protect the ball by placing their body in between the ball and the defender.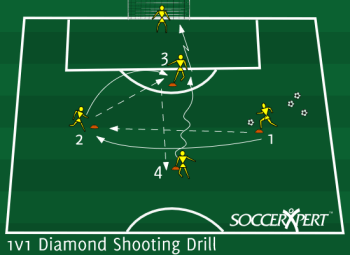 Spice up your shooting combination drill by finishing with a 1v1 to goal. Add a fun little twist, and the kids love it.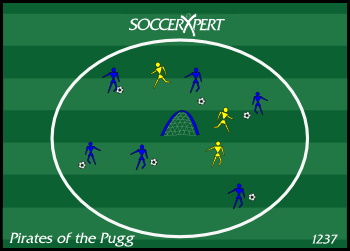 This drill is an excellent drill for younger players ages 8-11 and focuses on dribbling technique in traffic which requires vision and awareness.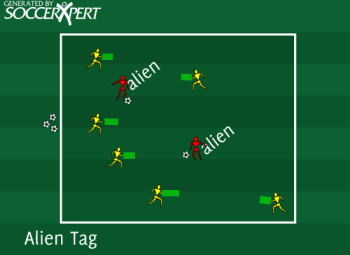 Alien tag is a great Under 4 soccer game for 3, 4, 5, and 6 year-olds. Your kids will like flying around and crashing in their spaceship.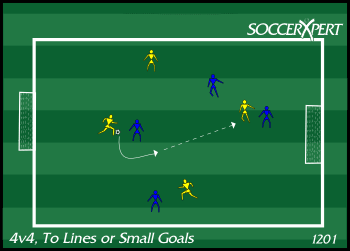 4v4 in soccer is the smallest game focusing on all aspects of a full sided soccer match.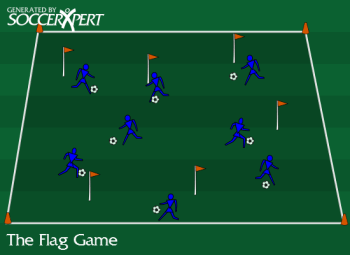 The flat game soccer drill is designed to focus on young soccer players learning to dribble in tight spaces.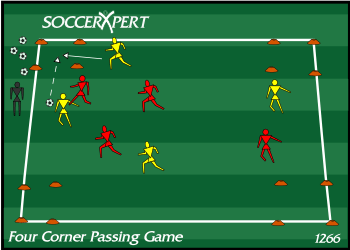 The Four Corners Soccer Passing Game is a great soccer passing drill to focus on changing the point of the attack, and timing of runs and passes.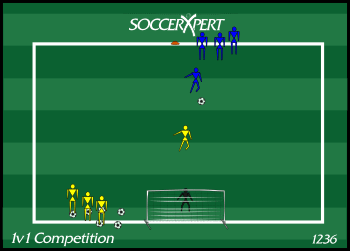 This drill is great to focus on 1v1 play. It is flexible and can be used to work on the offensive side or the defensive side.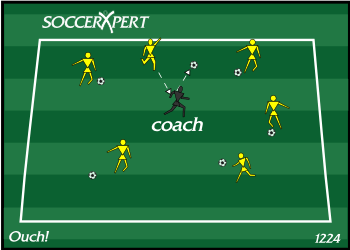 A FUN soccer drill for younger players (U6, U7, and U8) to introduce dribbling, looking up and correctly striking the ball at a target.