Youth Soccer Dribbling Drills
Soccer dribbling drills are critical to mastering the art of dribbling. Dribbling is one of the essential skills in soccer and is useful in taking on defenders, maintaining possession, or reducing pressure.
Dribbling is one of the first skills coaches should teach players at an early age.
Purpose of Dribbling in Soccer
Players can dribble to space to maintain possession.
Players can take on defenders to advance the ball towards the opponent's goal.
Players can dribble to releave pressure by creting time and space.
Soccer Dribbling Requires
Good footwork
Command of the ball at all times
Ability to change direction
Good with all parts of the foot (inside, outside, bottom, top, shoelaces, etc.)
Good with both feet
Proper touch (not too hard, not too soft)
Youth Youth Soccer Dribbling Drills Coaching Points and Techniques
Here are a few coaching points to focus on when coaching dribbling drills:
Low center of gravity.
Keep arms up and out for balance.
Keep the head and eyes up. The eyes should not be on the ball.
Scan the field as you are dribbling. This will improve your vison and awareness.
Dribble with the shoelaces when dribbling.
Keep the ball close in pressure and away from you in space.
Dribble with confidence.
When taking players on, get to the space behind the defender.
Use your body to protect the ball.
Change of speed and change of pace to lose the defender.
Accelerate once you have beat the defender.
Don't do too many moves, or attempt to beat the same defender multiple times.
Browse the Latest Soccer Dribbling Drills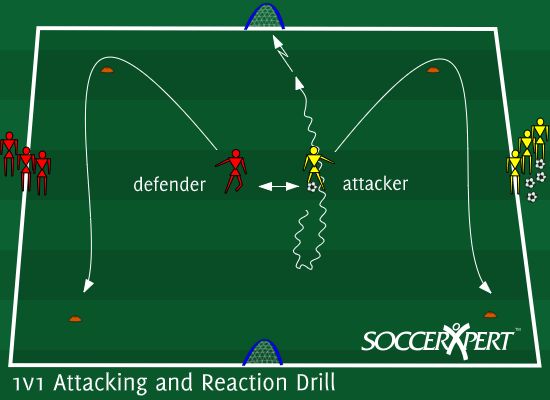 This 1v1 soccer attacking drill focuses on the attacker making quick faints, a change of direction, and a burst of speed while causing the defender to react quickly to the attacker's movements.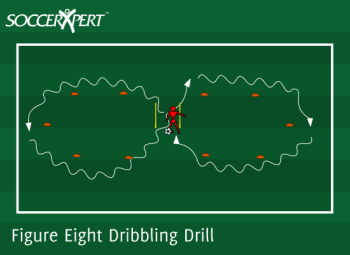 The Figure Eight soccer dribbling drill is a good change to weaving in and out of cones and is great for dribbling with the inside and outside of the foot.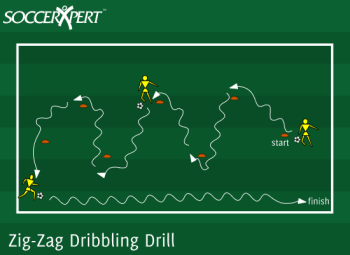 The Zig-Zag soccer dribbling drill focuses on dribbling with speed with the inside, the outside, and the bottom of the foot.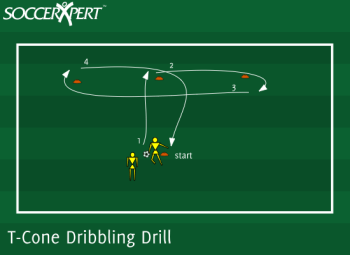 The T-Cone soccer dribbling drill focus on controlled touches, turns, and fitness.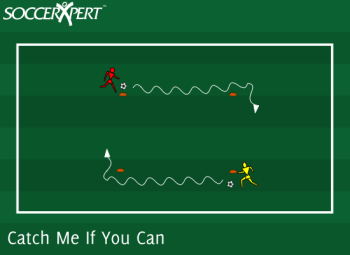 This soccer dribbling drill will focus on dribbling with speed as the players race to catch the other player.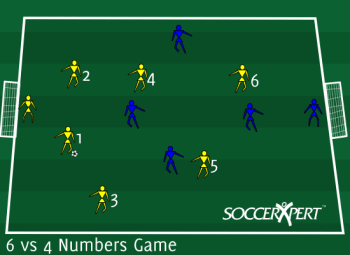 This 6 vs 4 team training drill focuses on passing and team play. The 6v4 soccer game is great finish to a passing training session.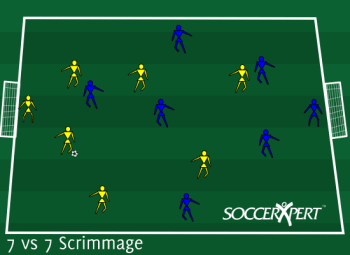 It's always good to finishing a soccer training session with a 7 vs. 7 scrimmage to focus on team play.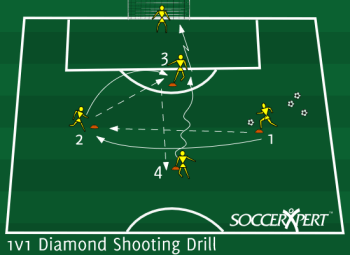 Spice up your shooting combination drill by finishing with a 1v1 to goal. Add a fun little twist, and the kids love it.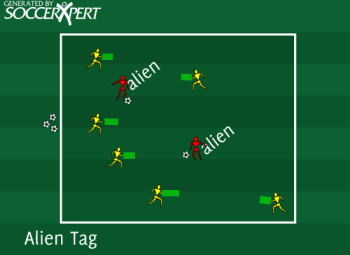 Alien tag is a great Under 4 soccer game for 3 and 4 year olds. Your kids will like flying around and crashing in their spaceship.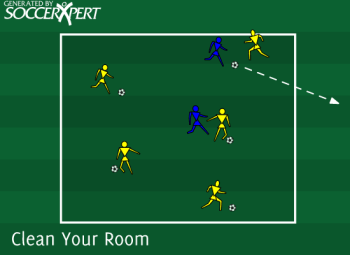 The clean your room soccer defending and dribbling drill is a fun game for younger players.