Crossing, Finishing, Shooting Drill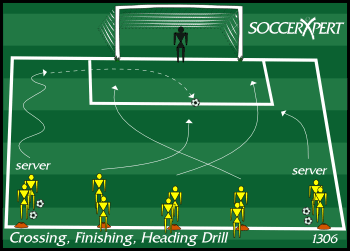 Soccer Crossing and Finishing Shooting Drill
This soccer drill is a great training tool to perfect crossing, finishing and heading in soccer. Check out more soccer drills, Soccer crossing drills, soccer finishing drills and soccer heading drills.
Drill Setup
Using a full-size training goal, place a goalkeeper in the goal.
Assign your midfielders, flanks and outside backs as servers on the right and left sides of the penalty area. With the remaining players create three additional lines in the middle of the field for the finishers who crash the box once the cross is prepped and ready to be served.
Drill Instructions
On the coach's command, the right flank player dribbles to the end line and sends in a cross between 6 and 12 yards from goal. The players in the three finishing lines make curved runs and attack the near post, middle, and far post in an attempt to finish on goal as quickly as possible. If the shooter is slow to shoot or receives the ball with their back facing the goal, they should play the ball to the center line for a first-time shot on goal.

Drill Variations
Add defensive players as passive defenders. Add pressure as the players get comfortable with the passive defenders.
Drill Coaching Points
Make sure the server dribbles to the end line with speed, preps the ball towards the middle of the field to alert the attackers of the cross coming, and get hips turned towards goal before serving.
Make sure the attacking finishers make curved runs to their spots and that their runs are timed to get to the 6-12 yard area as the ball is arriving.
Quick finish with one touch volley, header, or quick turn/shot.
Equipment
Disc Cones
Full Size Goal
Drill Ages
9 Years Old and Under
10 Years Old and Under
11 Years Old and Under
12 Years Old and Under
13 Years Old and Under
14 Years Old and Under
15 Years Old and Under
16 Years Old and Under
17 +
Soccer Drill Focus
Heading - Soccer Heading Drills
Crossing - Soccer Crossing/Finishing Drills
Attacking - Soccer Attacking Drills
Shooting - Soccer Shooting Drills
Goalkeeping - Soccer Goalkeeping Drills
Soccer Drill Titled:
Crossing, Finishing, Shooting Drill
Tagged:
Soccer Crossing and Finishing Shooting Drill
Published by:
Chris Johnson