Attacking the End Line Crossing Game
This drill focuses on attacking from the end line from the flanks and serving a ball in. This is a great crossing game to isolate the flank players and getting them to serve the ball in front of the goal.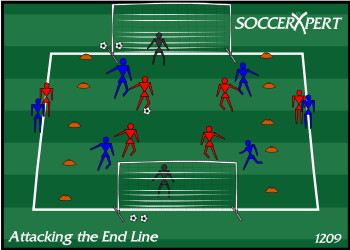 Chris Johnson
169,021 Views
Rating 4.01 (81 Reviews)
Attacking the End Line, Crossing Drill, Crossing Game
This attacking soccer drill focuses on attacking from the end line from the flanks and serving a cross in front of the goal.
Drill Setup
Using half of a field, move the goal to the midfield line facing the goal on the end line.
Using 4-5 cones on each side, create a 10-yard wide channel along each touchline.
Two teams of 4 play in the middle.
Each team has one player in the channel and a goalkeeper in both nets.
One team starts with the ball and the remaining balls behind the goal.
Drill Instructions
Instruct the players to play 4v4 in the middle area and 1v1 on the flanks in either channel.
The ball must be served from a channel to score a goal.
When the ball is in the channel, the channel players should play 1v1 until one of the player's breaks into the offensive side of the channel.
At this point, the defender should allow the cross.
The four players in the middle make near post, far post, trail, and supporting runs.
Drill Variations
Increase or decrease the number of players in the middle
Use wall passes, takeovers or overlaps.
Rotate channel players.
Drill Coaching Points
Proper service of crosses from flanks. When to serve on the ground, when to knock back, and when to drive hard.
Make sure attackers are making proper runs.
Equipment
Disc Cones
Pinnies
Soccer Balls
Full Size Goal
Drill Ages
9 Years Old and Under
10 Years Old and Under
11 Years Old and Under
12 Years Old and Under
13 Years Old and Under
14 Years Old and Under
15 Years Old and Under
16 Years Old and Under
17 +
Soccer Drill Focus
Dribbling - Soccer Dribbling Drills
Passing - Soccer Passing Drills
Receiving - Soccer Receiving & Turning Drills
Crossing - Soccer Crossing/Finishing Drills
Possession - Soccer Possession Drills
Defending - Soccer Defending Drills
Attacking - Soccer Attacking Drills
Shooting - Soccer Shooting Drills
Goalkeeping - Soccer Goalkeeping Drills
Soccer Drill Titled:
Attacking the End Line Crossing Game
Tagged:
Attacking the End Line, Crossing Drill, Crossing Game
Published by:
Chris Johnson